Redpipes
Special Order
Redpipes

Sound is produced by applying pressure to the bag under your arm, just like the original thing. 

The redpipe (or red pipe) covers a wide range of keys, allowing you to play along with any other instrument.

Equipped with a quality chanter from McCallum Bagpipes, combined with unique electronics and a pressure sensitive leather bag, the redpipe provides the look and feel of a real bagpipe.


-Touch sensors with authentic fingering
-Drones and chanter are pneumatically activated by varying the pressure on the bag
-Overall volume control (drones individually)
-Key transposition across a wide range
-Realistic, wavetable-generated bagpipe and smallpipe sound
-Perfectly tuned chanter scale.
-Adjustable pitch
-Selectable baritone drone sound
-Vibration setting
-Expanded chromatic scale
-Onboard metronome
-Outputs: line, headphone and MIDI
-MIDI output allow connection of compatible sound generators and other MIDI equipment
-Power supplied by two 1.5 V batteries (AA)
-Future Upgrades possible (additional sounds planned, e.g. shepherd's pipe, gaita etc.)
-Can be used with an amplification system
-Must be plugged in to a line connection (speakers/earphone) or wireless system
-Made in Germany
- 2 Year Warranty
Redpipes Manual

The Classic Air model comes with a blowpipe and requires the bag to be filled with air.  The blowing effort is customizable so the player decides the level of comfort.  

The Caledonia pipes are similar to the Classic Air, but with the addition of drones (just for ornamentation, they are not functional).  P2 Model comes with Polypenco Drones.  P4 model comes with Polypenco drones with engravings and imitation ivory.

The French model has a second thumb hole to allow the half open french playing mode. 


Preset Memory Upgrade Option.  Every model of the Redpipes can now be upgraded with the preset memory system that allows you to store up to 10 different settings of sound, fingering, key and many other parameters.

OpticalTouch Chanter Upgrade option. The original Redpipe chanter has electrical sensors on the chanter. The new "OpticalTouch" chanter has optical sensors just below the same type of holes as a standard bagpipe chanter. These sensors will detect which holes are closed and which are not.

Built In Speaker Option.  Classic and Classic Air Models are now available with a Built In Speaker upgrade.  The P2 & P4 Caledonia models are also available with speakers, however these models require 2 speakers, which increases the cost.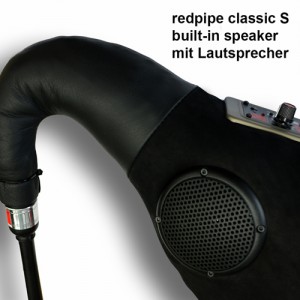 Peter Purvis, the Canadian piper of Gaelic Storm is playing a caledonia. Stuart Cassells, leader of Red Hot Chilli Pipers just got one.


For some soundclips, check out the Redpipes Site


Here are some Redpipes Videos:

Stuart McCallum on Redpipes: https://www.youtube.com/watch?v=o98UbzAx5ic

Red Hot Chilli Pipers on Redpipes: https://www.youtube.com/watch?v=1e3ZH6cPpm4


Redpipes